No-Fuss Crème Caramel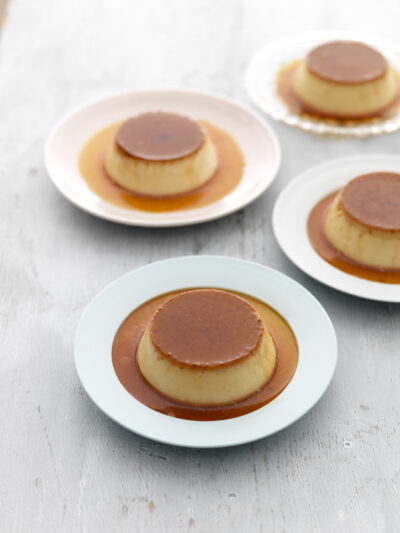 Print Recipe
My family adore crème caramel but I'd always found them a bit of a fiddle to make. No longer! The slow cooker helps create the most perfect lower-calorie custards without the worry of overbaking. Give it a go – you will be amazed.
Ingredients
oil,

for greasing

100

g

caster sugar

3

tbsp

cold water

2

large eggs,

plus 2 large egg yolks

1½

tsp

vanilla extract

300

ml

semi-skimmed milk
Instructions
Lightly grease the insides of four 175ml metal mini pudding tins (dariole moulds) or ramekins with oil, and set aside.

.

Put half of the sugar in a small saucepan and add the cold water. Stir well and place over a medium-high heat. Bring to a simmer and cook for 4–6 minutes, without stirring, or until the sugar dissolves and the caramel turns a deep chestnut brown. Swirl the caramel gently in the pan as it cooks, but take care to avoid splashes. (Do not be tempted to touch or taste the caramel as it will be extremely hot.)

.

Divide the caramel between the bases of the four greased dishes, so it lightly coats the base of each one. (Take care as the hot caramel will heat the bottom of the tins quickly.) Leave to stand for 30 minutes, to allow the caramel to harden.

.

Whisk the eggs and egg yolks together with the remaining sugar and the vanilla extract with a large metal whisk for about 1 minute until well combined but not frothy. Stir in the milk and strain into a large jug.

.

Divide the egg custard mixture equally between each of the dishes and cover the top of each one tightly with foil, pinching around the edges to seal. Place in the slow cooker and pour in enough cold water to come halfway up the sides of each dish. Cover with the lid and cook on LOW for 2-2 ½ hours or until set.

.

Remove the crème caramels from the slow cooker, holding the dishes with an oven cloth. Leave to cool on the work surface for 30 minutes then transfer to the fridge for several hours or overnight.

.

To serve, remove the foil lids and press the surface of each pudding gently with your finger or a teaspoon to break the seal all around the edge. Invert onto small plates and give a couple of little shakes until the puddings flop down onto the dishes.
Notes
Cook's tip
It's best if the dishes fit in a single layer in the slow cooker, but don't worry too much if one or two of the dishes have to sit on top of the others – just make sure they are nicely spread out and only add enough water to reach halfway up the sides of the dishes on the bottom layer.
Buy 'SLOW COOKER' Without the Calories: Low Calorie Recipes, Cheats and Ideas for Feel-Good Favourites